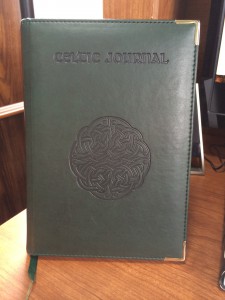 My parents gave me this journal. It was a Christmas gift, if I remember correctly. I was living on Fairview. It came in its own box, the same color as the cover. I remember being enthralled with the ribbon bookmark, the stamped leather cover, and the gold leafing on the edges of the pages.
This journal was simply too fancy for me to desecrate with my chicken scratchings. How could I possibly taint it with anything less than perfect handwriting? What if I spilled coffee on it, or got diner grease on the pages? Those were badges of pride in my second hand or homemade journals, but seemed offensive in this work of art.
This journal was NICE.
It spent a year or two collecting dust in that house, and then in storage, and then in my nerd cave in the Bancroft house. A couple of months after the move to Bradley Ave, I picked it up, brushed the dust off of the gold leafing, and steeled myself. I took my collection of convention badges and ribbons and taped them throughout. It no longer shut properly. The gold had gaps in it. When it opened, the pages naturally parted to multicolored evidence of nerdy shenanigans. It was no longer too nice for me, and I could write in its pages with abandon. I had given myself permission.
I'm glad I did. The pages are thick and solid. They're a bit glossy, creating issues with some pens, but work fine with most. The ribbon bookmark frayed slowly at the end, but never enough to impede its function. It's been an absolute joy to write in. Somehow, it avoided both grease and coffee stains.
And just in case you're interested, they're still made. In Dublin. I highly recommend them.