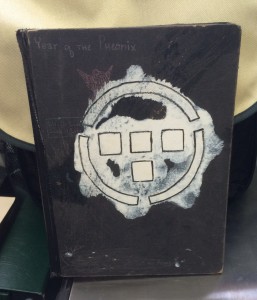 I've learned something from this little project. I've learned not to use paint left in my house by the previous owner, that has likely gone bad, with a stencil project. No matter how much you stir the paint, the oily and watery parts will seep beneath the stencil, and into the parts of the cover that have been scored by what looks to be a mechanical pencil tip, and create a mess.
It's a neat-looking mess. Once it dried (four days!), I put the stencil back on, and went over it with a black marker. Marker doesn't usually stay on paint, I've been told, but the black dry erase marker that I used (hey, it was just sitting there, on my desk, unused and unloved) seems to have gone permanent. I'm not gonna complain.
The symbol is from Tron: Uprising, though modified slightly for stenciling. The end look makes me think of graffiti, which ties in nicely with the last few episodes of the first season of the show. Silver lining!
I'm pretty happy with all of my journals now, so my next craft project will likely involve a Dresden Codak patch and my new work backpack.