Historically, I've not been very good at summation posts. Things like conventions, conferences, holidays, vacations and the like are so full of experience that blogging about any one of them feels like a pale tribute at best. Instead of trying to capture the entirety of the season, I'll make a couple of notes about some highlights.
We got to see Annie at the Wharton Center, and watch my good friend knock 'em dead as Daddy Warbucks. Wrangling was done to make the tickets happen, risk-taking was done to make after-play food happen, and then visiting was done to send Gil and Allison off on their winter break. An excellent afternoon, evening, night, and morning. And I'm not just saying that because of the scotch, the mac and cheese, and the breakfast. Did I mention the scotch?
The family gatherings this year were amazing, though we were down one due to illness. Gifts were exchanged, children (and perhaps some adults) ate way too much junk food, silly hats were worn, drinks of many varieties were imbibed, and everyone made it through safe and sound. In the end, an amazing set of holidays.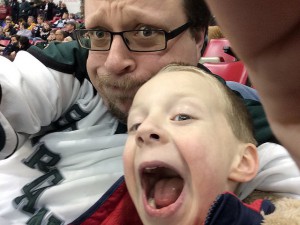 They moved the Great Lakes Invitational back inside the Joe Louis Arena, thank goodness. No more open-air hockey shenanigans. Cian and I arrived in time for the championship game between the University of Michigan and Michigan State University. Trying to explain the rivalry between these two similar-sounding schools to my friends who live out of state is an exercise in hilarity.
The holidays were so much more than this. I didn't mention that Cian knew I was going to have a coffee and a coney at the game, how hilarious the white elephant games were this year, or how we've apparently been Doing It Wrong this whole time. I didn't talk about the tree, the new battery charger that I got, my renewed interest in video games, or the New Year's party.
And maybe that's good, because then I didn't have to bring up who won the hockey game.